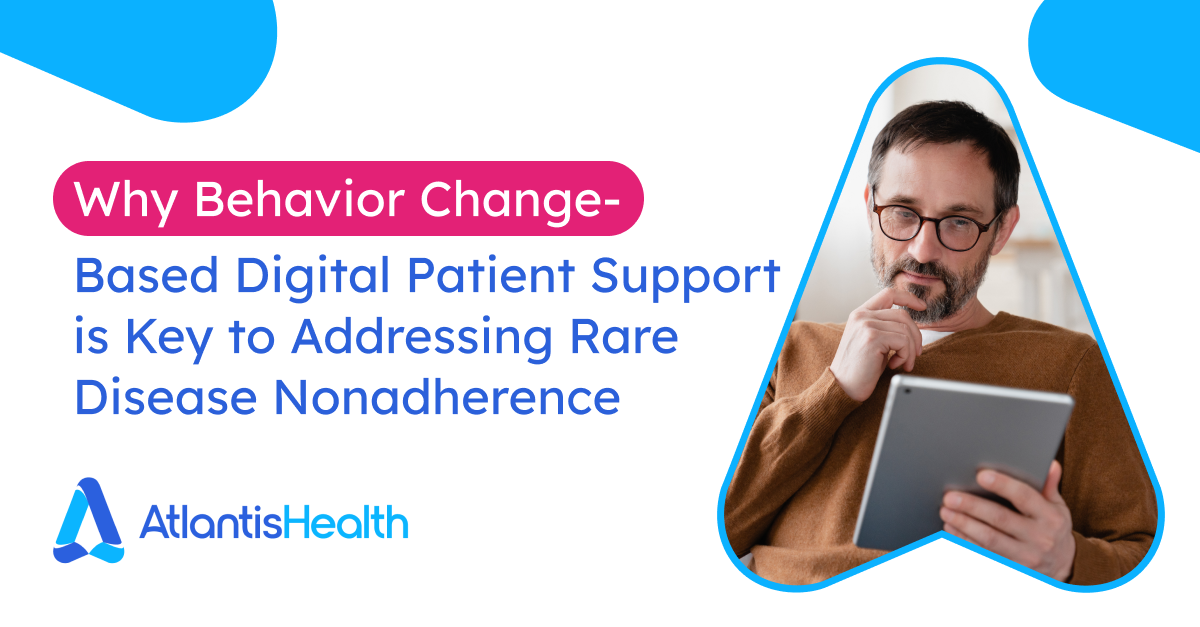 Doctors, nurses, and other health professionals often put medication nonadherence down to forgetfulness. "Patients want to take their medications," they rationalize. "But life gets in the way." It's an easy assumption to make. Consumed by a desire to save lives, medical professionals convince themselves that patients think just like them. That's not the case. 
Our new global rare disease nonadherence study shows that people living with rare diseases don't just forget to take their medication. They intentionally stop treatment – even when their condition is rare, often debilitating and life-long, and the consequences of not taking the medication can be serious. But such circumstances raise even more questions than answers. Why would an individual risk their life and health by consciously refusing to take medication? That's precisely what we set out to answer in our rare disease nonadherence report. 
The findings are as surprising as they are insightful. It's our hope that they will pave the way for new initiatives to tackle rare disease nonadherence and improve patient outcomes. Read on to learn more. 
Top 3 Reasons for Rare Disease Nonadherence
Surprisingly, the key reason for rare disease medication nonadherence wasn't forgetfulness or even the risk of deleterious side effects. It was all about a patient's thoughts and feelings regarding their disease. Numbed by months or years dealing with a rare disease, each of these patients had made a conscious decision to forgo treatment. 
According to our research, the top three reasons for nonadherence were: 
Desire to lead a normal life again (55%)

 
Inconvenience of taking medication all the time (51%)

 
Aspiration to see themselves as a healthy person (49%)

 
Indeed, "wanting to lead a normal life," "not wanting to take medicine all the time," and "wanting to think of themselves as healthy" are all characteristics of individuals who are worn out by the burden of their illness and need help accepting and adjusting to life with their rare disease. 
Our research further shows that these behaviors increase over time. So, an individual may take their treatment as prescribed for a period, but, after six to twelve months, the psychological and emotional toll leads them to stop following their treatment plan.
Rare Disease Nonadherence Implications
The implications are profound, underscoring the need for highly personalized psychosocial support for people living with rare diseases alongside their caregivers. Also asking patient's questions that are not usually discussed in consultations becomes an important component to optimize outcomes.  Moreover, these psychosocial interventions must be targeted at individuals and periods in the treatment when the risk is highest.  
That doesn't just mean educating patients on the treatment and its side effects during the initial prescription. For treatments to have a long-lasting effect, doctors and health professionals must deliver a continuity of education and support for as long as the treatment lasts. 
Signs of frustration and fatigue, in particular, exacerbate an individual's psychological resistance to their disease and treatment. A periodic questionnaire, asking patients questions that tap into the themes identified above therefore,  would be of immense value.  
The report's silver lining is clear: risk factors for nonadherence are identifiable (remotely and in person) and can be modified with sufficient supportive interventions.  
Best Ways to Increase Rare Disease Treatment Nonadherence Rates
A Blueprint for Boosting Rare Disease Treatment Adherence 
In light of the fact that many individuals living with rare diseases intentionally refrain from medication, the most effective way to increase adherence is by assisting patients in accepting their condition rather than resisting it. 
Research from the NIH underlines that Acceptance and Commitment Therapy (ACT) can be employed to support patients with rare diseases to accept their condition and enhance patient-reported outcomes, including quality of life [1].  
Why Behavior Change-Based Digital Patient Support is Critical 
Health-related behavior change is challenging, which is why adopting a digital patient support platform and program based on the latest behavioral science is essential in supporting people living with rare diseases and their care providers. 
This need has been independently confirmed by a McKinsey article where the authors recommend using digital technology to support treatment adherence, including remote monitoring and app-powered support [2]. As they explain: "One treatment for a chronic rare disease, for example, leverages a mobile app for symptom tracking and personalized dosing recommendations, allowing patients to share their data with their healthcare provider for an optimized treatment algorithm." Reducing the cognitive load of dealing with a troublesome condition and providing continual support eases the burden on the patient, thereby improving adherence rates. 
Based on these findings, Atlantis Health has created a state-of-the-art digital patient support platform that leverages behavior change-optimized content and workflows to ensure the highest treatment adherence and optimal patient outcomes. This platform is particularly advantageous for global pharmaceutical companies aiming to support their rare disease patients and care providers. 
Accessible at all times and places, our Patient Engagement Platform (PEP) can cater to diverse communication channels, depending on patient preference. The platform is rooted in evidence-based strategies for behavior change, integrating personalization and Behavior Change Techniques (BCTs) to deliver customized, effective interventions to patients. This approach guarantees that patients receive tailored messaging and interventions that best suit their needs. 
Final Thoughts
Given the high rate of nonadherence among rare disease patients, this report's insights are crucial for all stakeholders involved in the care and support of people living with rare diseases.
For more information, access the new Rare Disease Nonadherence Report below or book a 30-minute free consultation on rare disease adherence and how Atlantis Health's Patient Engagement Platform can aid your efforts. 
Let's join hands in enhancing treatment adherence and improving the lives of those battling rare diseases. 
References
Manuel, J. I., Covell, N. H., Jackson, C. T., & Essock, S. M. Does assertive community treatment increase medication adherence for people with co-occurring psychotic and substance use disorders? Journal of the American Psychiatric Nurses Association. 2011; 17(1): 51-56.

 

McKinsey & Company. Treating rare disease: How digital technologies can drive innovation. Published February 27, 2023. Accessed July 8, 2023.

https://www.mckinsey.com/industries/life-sciences/our-insights/treating-rare-diseases-how-digital-technologies-can-drive-innovation

.